Most investors are surprised to learn that the biggest obstacle to profiting from the purchase of Strategic Metals is not safety and security and not even that Rare Earth Metals do not increase in value. The number 1 obstacle is that people do not know they can safely purchase, store and liquidate Strategic Metals tax-free and securely. It's no surprise as until very recently this opportunity was not available to private investors.
Regarding portfolio diversification, we feel strongly that to achieve proper diversification a portfolio should be in multiple asset classes and multiple jurisdictions. The purchase and storage of Strategic Metals offer the discerning investor multiple interesting additions to their portfolio such as:
the ownership of a tangible asset
an independent jurisdiction, therefore, providing geographic diversification
purchase and resale tax-free
an alternative asset class
a tangible asset where supply is limited and subject to disruption
undeniable rising demand
no sell-by date as our metals can be stored indefinitely if need be.
If you are ready for international diversification in one of the safest, most secure locations in Europe we look forward to chatting with you.
Please feel free to email me directly at   or call US +1 353 87 7146751.
John (Louis) O'Connor
CEO Strategic Metals Invest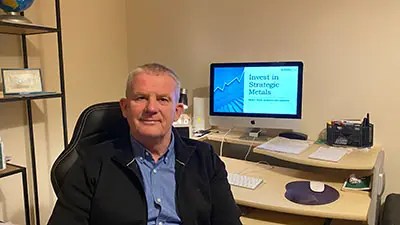 Strategic Metals Invest is a sales and marketing partner of TRADIUM Gmbh.

TRADIUM Gmbh, Frankfurt, Germany, was founded in 1999 with the aim to become a key intermediary between the high-tech industries and the producers of the critical raw materials for these industries. To guarantee the resolute quality of their services, TRADIUM introduced in 2003 a DIN EN ISO 9001 certified quality management system.
Today, they are one of the most reputable dealers for technology metals and rare earth elements in the world. Since 2010 they also offered private customers the option to purchase these essential raw materials, and they are the only industry supplier to do so.
TRADIUM Gmbh are the exclusive representatives for numerous major international raw material producers and many of their employees have over 25 years' experience in this market. Their reputation and in-depth knowledge about the product range, packaging, and quality also enhances the liquidity of the investments.

Their sister company METLOCK GmbH offers bank-level security standard storage of technology metals, rare earth elements, and other valuable commodities.
Together, they therefore offer a convenient and complete solution for the purchase, storage, and resale of your strategic metals as a future and inflation proof investment.