How to Invest in
Strategic Metals

How does this Purchase Work?
Unlike precious and industry metals, which are traded on stock exchanges and can be purchased easily, technology metals and rare earth elements can only be purchased through special industry dealers. Our partner, TRADIUM GmbH, Frankfurt, Germany, is the only such industry supplier to make strategic metals available to private customers wishing to diversify their investment portfolios.
1 Choose your Strategic Metals
The selection of strategic metals offered to private investors are those which, based on the areas of application of the metal and 25 years of experience in this industry, are considered the best tangible assets for investors in the medium and long term.
These include:
Technology Metals:
Gallium, Germanium, Hafnium, Indium, Rhenium, and Tellurium
Rare Earth Elements:
Dysprosium, Neodymium, Praseodymium, and Terbium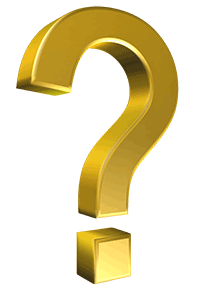 The minimum investment amount is $10,000/€10,000. While you can choose any combination of these strategic metals (pick & mix), we also created a few popular investment Panniers (Baskets) which are based on a specific industry or grouping:
You can read more on each of the individual strategic metals and investment baskets in our brochure.
We highly recommend that you schedule a call with one of our metal experts who can inform and guide you through the available options. Our UK, Ireland, and USA team are all native English speakers.
2 Purchase your Strategic Metals
Once you have chosen the strategic metal(s) or basket(s) you would like to purchase, we will email you a Reservation Form with all the details included. You will need to sign this form and return it (by email) with a copy of your passport. We will then email your purchase order, storage agreement (optional) and wiring instructions to make the purchase.
As soon as we receive your signed agreements and funds, we will assign your strategic metals.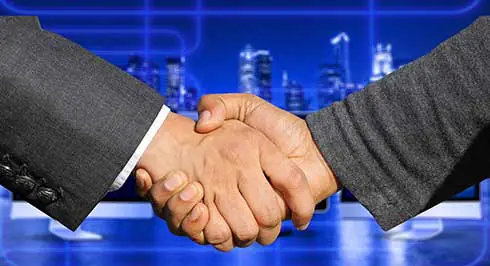 At this point we will have determined whether your metals are being stored in collective custody or individual custody. Either way, the purchase, storage, and resale (liquidation) of your metals are completely free of taxes (after one year of holding). We will issue you with Certificate of Ownership (ISO -9001 – STD) certifying the industrial standard of your strategic metals.
3 Store your Strategic Metals
Unlike virtual investments such as shares or investment funds, tangible assets such as technology metals and rare earth elements must be physically stored.
You could choose to receive and store the metals and powders you bought yourself. However, we recommend using the high-security bunker of our partner METLOCK for the safe-keeping of your strategic metals' portfolio.
Here they will be ideally stored and protected to the highest banking standards (security class 10 CD EX). The storage bunker covers three floors with 1,400 square meters (15,000 square foot) of space and reinforced concrete walls more than two meters (6.5 feet) thick.
Further protection is offered by armed security staff and leading-edge alarm systems directly connected to both a security service and the police.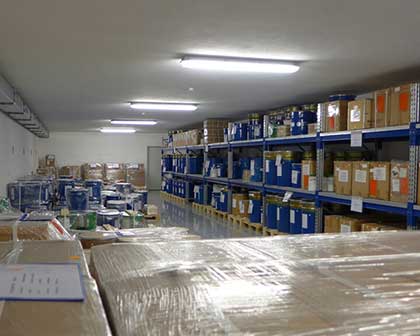 METLOCK customers also have full risk coverage and your strategic metals are insured against theft, fire, and embezzlement.
Furthermore, thanks to the professional storage of your powders and metals in their original packaging, we can ensure fast and safe liquidation.
METLOCK is currently renovating, adding extra security measures and expanding their space, so that in autumn 2021 2,300 square meters (25,000 square foot) storage space will be available.
4 Liquidating your Strategic Metals/ exit strategy
TRADIUM GmbH, Frankfurt, Germany are one of the world's best-known dealers in technology metals and rare earth elements, operating since 1999. This means they can quickly sell your investments to producers at current market value.
Because your physical investments are sold exclusively to industrial customers and are secured in a bonded tax free bunker the purchase and sale of your metals are completely tax free, no VAT (Sales Tax) or Capital Gains.
While private investors tend to purchase and hold strategic metals as a "longer term" play (5 to 10 years), it is possible to liquidate (at your instruction) your asset at any time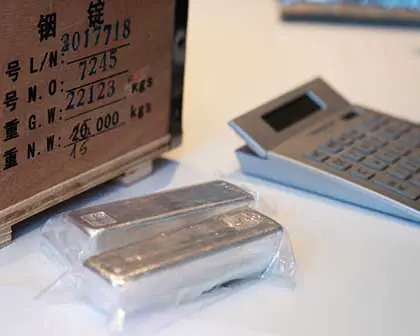 There is no sales commission or fee (after a holding time of one year), and your funds will be wired to your preferred bank account in your preferred currency to any location in the world.
5 Visitation and storage facility (Optional)
Of course, you are welcome to visit any time before, during or after the purchase process. The METLOCK storage facility in Frankfurt (Germany) is quite an interesting site, as it is was an air-raid bunker during WWII (the image is an animation of what the bunker will look like in summer 2021 after the current renovations). Frankfurt is Europe's financial hub and for centuries has been the "crossroads of Europe" and still is today. Frankfurt is also one of Germany's leading tourist destinations with a vibrant cultural scene. There are direct flights to Frankfurt from most major US airports.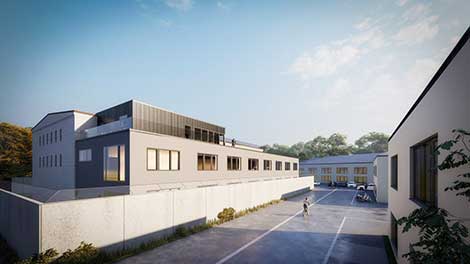 Our overseas visitors will be met at Frankfurt airport by one of our staff and after a quick spin on the autobahn safely deposited in their hotel. We always make time for dinner and socializing with our clients on their visit, as we appreciate very much the effort made to visit us.