The current price of Neodymium is $123.00 per kg.
Please note that this price is the retail price for private investors and is aligned with industry retail pricing. For bulk neodymium purchases, whether investment or industry, please contact us directly for a quotation.
Table: Neodymium Historical Prices and Price Changes
| Date | Neodymium Price | Change % to Today | Annual Change % |
| --- | --- | --- | --- |
| Dec 06 2023 | $123.00 / kg | | |
| Jan 1 2023 | $209.30 / kg | –41.23% | |
| Jan 1 2022 | $222.80 / kg | –44.79% | -6.06% |
| Jan 1 2021 | $109.70 / kg | +12.12% | +103.10% |
| Jan 1 2020 | $65.00 / kg | +89.23% | +68.77% |
| Jan 1 2019 | $66.05 / kg | -1.59% | -1.59% |
| Jan 1 2018 | $70.04 / kg | +75.61% | -5.70% |
Neodymium Historical Price Movement
At today's price of $123.00 per kg, neodymium changed –41.23% this year. Compared to its price of $109.70 per kg on Jan 1st 2021 it has increased +12.12% in value. If we go back further to Jan 1st 2018, when the cost of neodymium was $70.04 per kg, then this rare earth metal has gained +75.61%.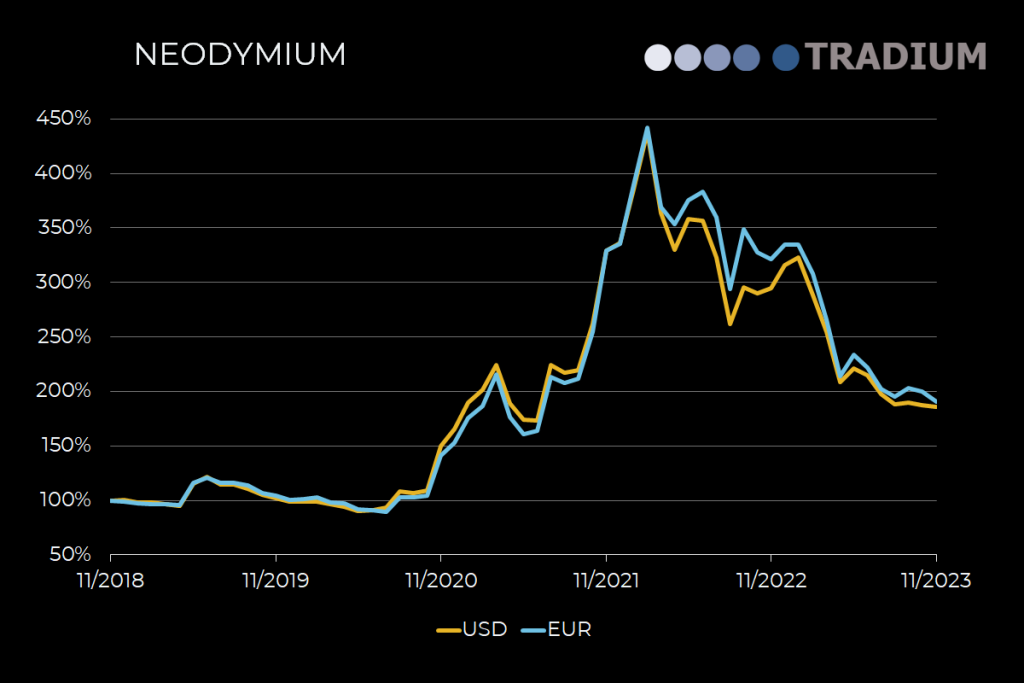 Neodymium is a rare earth element that is found in the earth's crust. Its metallic element number is 60 and its chemical symbol is Nd. It is categorized as a lanthanide.
To make a qualified prediction of neodymium's future pricing trends, let's first examine its current applications and consider the key countries manufacturing this rare earth element (jump to our forecast here).
Neodymium
Uses

Neodymium has been used since the early 1950s in different products to create magnets with higher magnetic properties than those made with iron or other metals. Neodymium magnets are typically composed of neodymium iron and boron. Combining these two elements produces a powerful magnet that can permanently carry up to 1,300 times its own weight and that is used in a wide range of products ranging from fridge magnets to aircraft engines.
Using neodymium magnets for storing data on computer hard drives and assembling mobile phone speakers and microphones enables the miniaturization of electronics making items like computers and cell phones easily accessible to us today.
Neodymium is also increasingly being utilized in alternative energy sources like wind turbines and electric & hybrid cars, the latter being the biggest user of high-performance neodymium-iron-boron magnets today. At the same time, this rare earth element is also incredibly valuable in medical equipment, including MRI machines, surgical lasers, and heart pacemakers.
Neodymium also has decorative applications, being one of the components used to make beautiful glass with hues ranging from yellow-green to deep violet. It can also be combined with other elements to create items, such as glasses that block infrared radiation, creating goggles for welding and cutting operations.
Its applications and versatility mean neodymium is known as one of the most effective rare earth elements available commercially today. 
Did you know?
The name "neodymium" comes from the Greek word "neos", meaning new, and "didymos", meaning twin. The combined name means new twin.
Where is Neodymium Produced?
Neodymium is rarely found in nature as a free element, instead occurring as ores, such as bastnasite and monazite, that contain small amounts of all rare earth metals. While world reserves of neodymium are estimated at 8 million tonnes, the difficult and potentially environmentally damaging extraction makes this strategic metal so valuable.
The main mining areas are in China, the United States, Brazil, Russia, Sri Lanka, India, and Australia. Most of the current neodymium production (estimated at over 85%) is from China.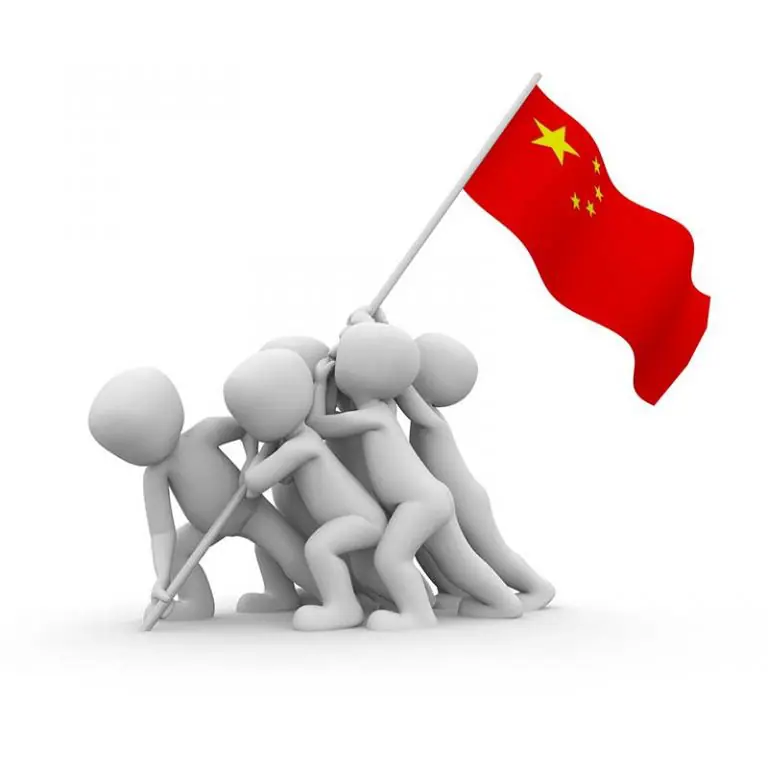 Interesting Neodymium Magnet Fact
They have unusually high temperature resistance and can withstand heat exceeding 392 degrees Fahrenheit / 200 degrees Celsius.
What Factors Determine the Price of
Neodymium
?
As with all other commodities, the laws of supply and demand determine the price of this rare earth element. We've already mentioned that neodymium is an incredibly valuable and indispensable element for modern industry, especially for green energy applications. So if the demand for electric cars increases, so does the demand for this rare earth element.
The bulk of the current global supply of neodymium is from China. Historically, the Chinese government imposed strategic material controls on this rare earth element (sometimes even as a geopolitical tool), causing significant price fluctuations. In 2010, for example, China slashed rare earth exports and entirely cut Japan off to pressure them to release a detained Chinese fishing trawler captain. So China's export policy significantly impacts the price of neodymium (and other rare earths).
Did you know?
When your cell phone vibrates, the rapid movement is caused by a miniature neodymium magnet inside the device.
Neodymium Forecast
We mentioned that neodymium is used in many products and applications, from electric motors, computers, and specialized medical instruments to holding objects together, such as clasps for shoes, fridge magnets, and jewelry.
In terms of forecasting the price of neodymium for the following years, we need to consider its importance to the alternative energy industry particularly.
In the automotive industry, it has become increasingly popular as a component of electric & hybrid cars due to its low cost and high-performance benefits. Considering that each Toyota Prius reportedly contains as much as 1 kg of neodymium in its motor, it is clear the demand for neodymium from this industry alone will increase exponentially over the next 20 years.
For example, BMW announced last year they would spend 20 billion euros sourcing raw materials for electric vehicles. Also, Ford announced they are investing 11.4 billion dollars in factories for electric cars, their largest investment ever.
On the other hand, China dominates the supply of this rare earth element, and all other nations will have to wait in line until China satisfies its own demand. With China having big plans for green energy itself, this could be a long line for a limited supply. For example, wind power, which requires neodymium magnets, is one of the 10 technologies listed in China's plans to be self-sufficient domestically by 2025.
The United States and Europe are aware of the supply risk, with EU's internal market commissioner Thierry Breton stating last year that "… rare earths will soon be more important than oil and gas". While they are looking to find ways of reducing dependence on China, there's no easy or quick solution.
For example, Europe's largest deposits of rare earths (over 1 million tonnes) were found in the north of Sweden in January 2023. However, even if all environmental risk evaluations pass and permits are approved, they won't reach the market for another 10 to 15 years.
In addition, neodymium isn't just indispensable for achieving self-sustaining living conditions on earth; its versatility also means that it will become a key component in many products and applications not invented yet today.
Just recently, because of neodymium boron magnets and gallium, we have seen a shape-shifting robot escape a prison cell by liquifying and resolidifying after slipping through the cell bars. Click here to watch it on YouTube. Giving robots the ability to switch between liquid and solid states endows them with more functionality. The team added neodymium-iron-boron magnetic microparticles to the gallium.

In the future, this material system, in more practical ways, will be able to solve some particular medical and engineering problems; the potential exists to rapidly deliver drugs to, or remove foreign objects from, the stomach.
It's incredible to think that when creating the Terminator, James Cameron couldn't put the liquid cyborg of his dreams in the first film because CGI was not advanced enough in 1984. Now we can do it in real life, albeit on quite a small scale and only because of neodymium and gallium.
There are many new future technologies in the pipeline where neodymium plays a part, particularly with next-generation wearable medical devices and even cancer treatments.
So, with the demand expected to soar over the next 20 years (5-fold by 2030 alone, according to EU estimates) and the restricted supply for the foreseeable future, the price of neodymium is expected to increase in the middle and longer term … notwithstanding the recent price correction, after the triple digit price increase in 2021.

Interesting Neodymium Magnets Fact
The Nd magnets used in state-of-the-art audio headphones and speakers enable improved sound quality and the full spectrum of bass.
How to Buy Neodymium

If you Google search "buy neodymium" the first results all sell neodymium magnets. As an investor, you'd have to look for "neodymium oxide", the powder form, which you'll find at several online suppliers and marketplaces like Amazon, Alibaba, Etsy, and eBay.
You must realize though that you must purchase from a reputable dealer to ensure the purity. Otherwise, there's only the possibility of selling again to other hobbyists, meaning you may not profit from any price gains.
Corporate buyers like Tesla, Honda, Ford, Rolls-Royce, and BMW only use licensed metal dealers, like ourselves, to purchase the industry-grade neodymium they need in their production process. We act as a key intermediary between the producers of strategic raw materials and the industry users.
Any serious investor who wants to benefit from future neodymium price increases by buying and physically owning this metal can do this safely through us. We're the only globally licensed industry supplier offering this to private investors. We sell industry-grade neodymium oxide powder (Nd2O3/TREO) at a minimum of 99.0% purity, the minimum purity form preferred by the aviation, car manufacturing, and wind turbine industries. We also offer safe storage, a requirement if you want to sell again to the market in the future.
Neodymium futures contracts are also traded in the Shanghai Metal Market (SMM).
How to Sell Neodymium
If you own some neodymium oxide powder, you can easily sell it online to other hobbyists at sites like eBay, Amazon marketplace, or Esty. However, you won't get market rates because industry buyers like Mercedes, GE Aviation, and Chevrolet only buy their industrial-grade neodymium oxide from trusted licensed industry suppliers.
These companies will only transact with a seller that provides documentary evidence of the entire chain of custody, purity reports, and proof of proper storage. Because we're such an industry metals supplier, we guarantee the fast and safe liquidation of our investors' neodymium at market rates to the industries using it.
Did you know?
Permanent neodymium magnets are the strongest in the world; you wouldn't be able to move even a thumbnail-sized disk magnet from a refrigerator by hand.
All prices on this page last updated Dec 06 2023.