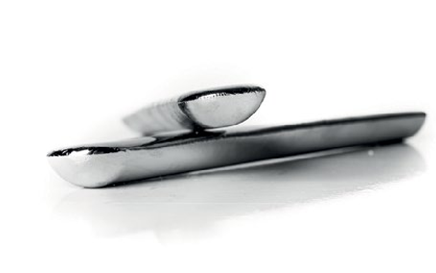 Germanium – the Backbone of Fast Fibre-optic Internet
October 6, 2022
Rhenium: A Rare Metal with a Bright Future
November 9, 2022
Today we would like to inform you about Terbium, its characteristics, current applications, future applications, and its price performance as a physical asset.
The Fraunhofer Institute for Systems and Innovation Research predict a massive supply gap for Terbium. Because of this Terbium is predicted to have one of the highest increases in value of any of our strategic metals between now and 2030.
Let's get to know this inconspicuous powder with many applications.
Terbium, in its oxide form, is a black-brown powder. In metal form, Terbium is so soft it can be cut with a knife. Terbium does not occur naturally and is usually found in conjunction with other lanthanides and is considered one of the "rarest" of Rare Earths.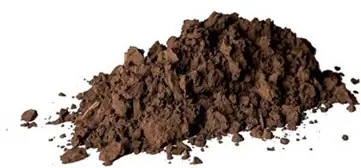 Terbium is applied in the production of semiconductors and functions as a catalyst for fluorescent materials.
Together with zircon dioxide, Terbium is indispensable in one of the most important industries of the future: As a stabilizer of high-temperature fuel cells.
In addition, Terbium oxide is also added to the green fluorescent in picture tubes and fluorescence lamps. Because of its ferromagnetic abilities, Terbium is also suitable for producing magnetic components: especially in Neodymium-Iron-Boron magnets.
Due to Terbium's increasing use in high-tech components such as high-temperature fuel cells and permanent magnets, experts predict demand far exceeding supply and, therefore substantial price increases.
The prospects for Terbium as a held physical asset are very good in both the medium and the long term. To give you some context, analysts from Fitch credit rating agency just last week stated that the demand for energy transition metals will not peak until the 2040's. It is anticipated that the bulk of low-emissions infrastructure will have been built then.
We offer Terbium as a tangible asset in its oxide (powdered) form, as oxides can be stored almost indefinitely in the right conditions. Our storage facility offers the right industrial conditions for storage.
As predicted Terbium is increasing in value more than any other Rare Earth right now. Please see the 5-year historical chart below (Source: Bloomberg).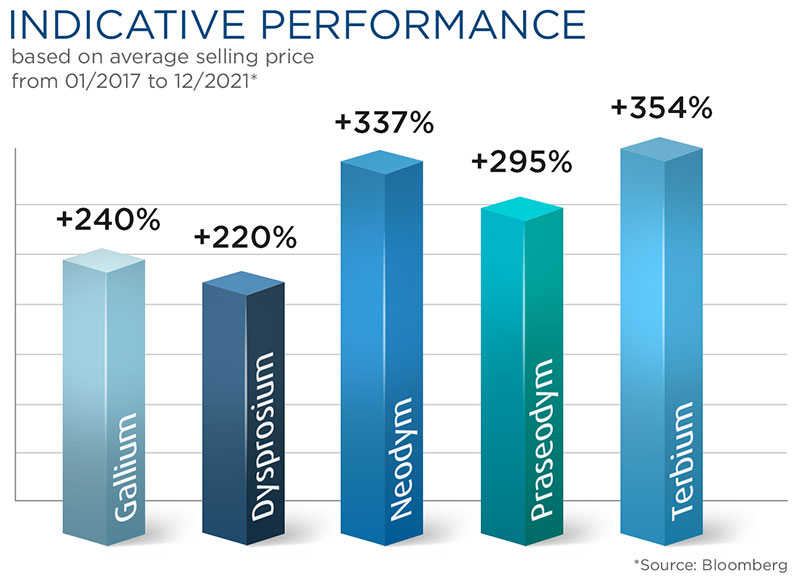 Terbium has increased a whopping 354% between January 2017 and December 2021, representing an average increase of 70% yearly for the past 5 years. Click here for the current and historical Terbium prices.
What's worth noting is our chart represents the price until the end of last year and before Russia's aggression toward Ukraine. A significant development due to Russia's invasion since then is Europe's acceleration of its transition to greener energy. This transition was already underway. However, Europe's goal is now to wean its dependence on Russian oil and gas as quickly as possible. This is good news for investors holding the critical raw materials needed for wind turbines, solar panels, and electric cars.
There will be shortages, and further price increases are predicted as demand continues to rise.
So much so that the EU has stated that Rare Earths are now fast becoming more important than oil and gas.
…and let's not forget the giant Panda in the room. China is the dominant market leader in Rare Earths. It has taken China 30 years to establish this position. We now live in the reality that the EU, US, and other developing nations wait in line for what Rare Earths China will export after they have satisfied their own domestic quotas. The importance of China's position cannot be overstated and what's significant is that China's dominance is not an economic fight. It is purely a geo-political strategy. Investors can profit from "hacking" China's strategy by owning Rare Earths as physical assets – here's why…
Owning Terbium or other Rare Earths means you physically own an asset where demand is increasing and said demand is not going to peak for another 20 to 25 years.
Supply is already limited and subject to disruption because China has already won the war in Rare Earths. China dominates in every possible way production, extraction, separation, refining, and supply.
The fact that demand is 6 to 9 times higher than supply indicates continued price increases.
China could economically weaponize the Rare Earths card by restricting quotas at any time, as they did in 2010 during a territorial dispute with Japan.
China can and probably will continue to restrict quotas to satisfy its domestic needs. China has big plans for electric cars, having doubled their production last year alone. Now that dominance has been established, China has further plans to move up the value chain in solar and wind power.
All things considered, it is likely that Terbium prices will continue to increase.
If you would like to learn more about Terbium as a physical asset or any of our Strategic Metals on offer as tangible assets, please feel free to contact us anytime.