Strategic Metals are essential raw materials for high-tech products such as mobile phones, electric cars, jet engines, computer chips, wind turbines, fibre optic cables, and many more. However, their supply is limited and close to 80% of production is monopolized by China.
Investors are already benefiting from this situation by purchasing these rare earth elements as tangible assets. Each of the metals shown in the historical price graph below outperformed the FTSE100 (+3%), S&P500 (+112%), and Gold (+58%) over the same 5 year period.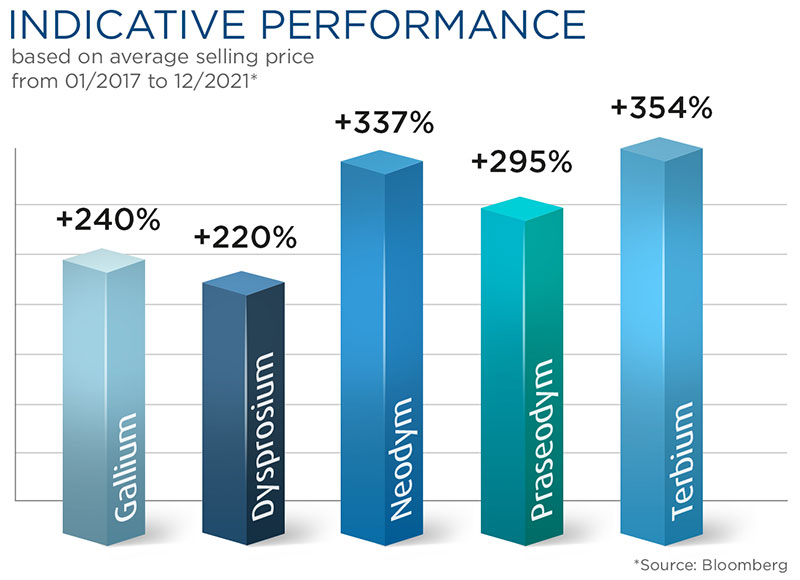 BENEFITS OF OWNING STRATEGIC METALS
When you purchase Strategic Metals, you own a physical asset with a real intrinsic value, not just a perceived extrinsic value (like Gold and other precious metals). Strategic Metals can be stored and resold at any time, and their value is purely based on demand and supply.
The demand for these raw materials is soaring, as a growing population and middle class in emerging countries mean an ever-increasing demand for high-tech products. The global transformation towards renewable energy sources such as electric mobility, solar power, and wind power will further boost demand for many years to come.
For example, BMW recently announced they are going to spend 20 Billion euros sourcing raw materials for electric vehicles. Two days later, Ford announced they are making the biggest investment in their history in factories for electric cars, 11.4 Billion dollars.
The availability of these Strategic Metals is not exactly "rare" because, on average, they are about as common as copper or nickel in the earth's crust. But, unlike copper or nickel, they do not occur in mineable pockets, meaning that obtaining them is not physically or economically viable, hence making their supply limited and finite.
With China controlling most of the production and establishing strategic raw materials reserves, these Strategic Metals are already considered "critical" to economic and national security by Europe, the US, and other industrialized nations. When, in 1987, Deng Xiaoping said, "the Middle East has oil, China has Rare Earths" he made a wise prediction.
So the formula for investor success is written in the certainty that we have ever-increasing demand combined with limited availability. The value of Strategic Metals is also not correlated with the stock market and has proven to be both crisis and inflation-proof.
A STRATEGIC PARTNER YOU CAN TRUST
Founded in 1999 in Frankfurt, Germany, TRADIUM GmbH has become one of the most reputable dealers for technology metals and rare earths globally. They have held an ISO 9001 QA certificate consistently since 2003.
Since 2010 TRADIUM GmbH has also offered private customers the option to purchase and securely store these essential raw materials, and they are the only industry supplier to do so.
Their reputation and in-depth knowledge about the product range, packaging, and quality also enhance the liquidity. As exclusive representatives of numerous major international raw material producers and buyers, TRADIUM GmbH guarantees the exit when investors are ready to liquidate!
HOW CAN YOU OWN STRATEGIC METALS … AND PROFIT
If you would like to future-proof your investment portfolio with Strategic Metals, please get in touch with us.