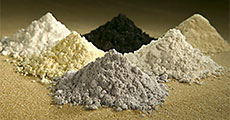 How to PROFIT from a SCARCITY in Rare Earth Elements in 2021
April 22, 2021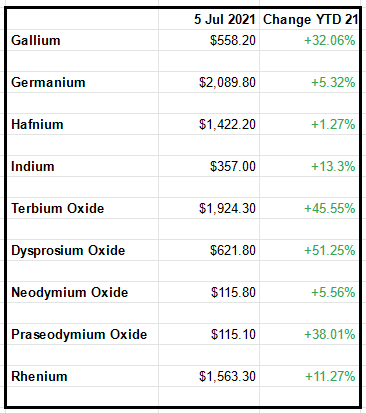 Published Price Gains in Rare Earth Elements / Strategic Metals YTD 2021
July 7, 2021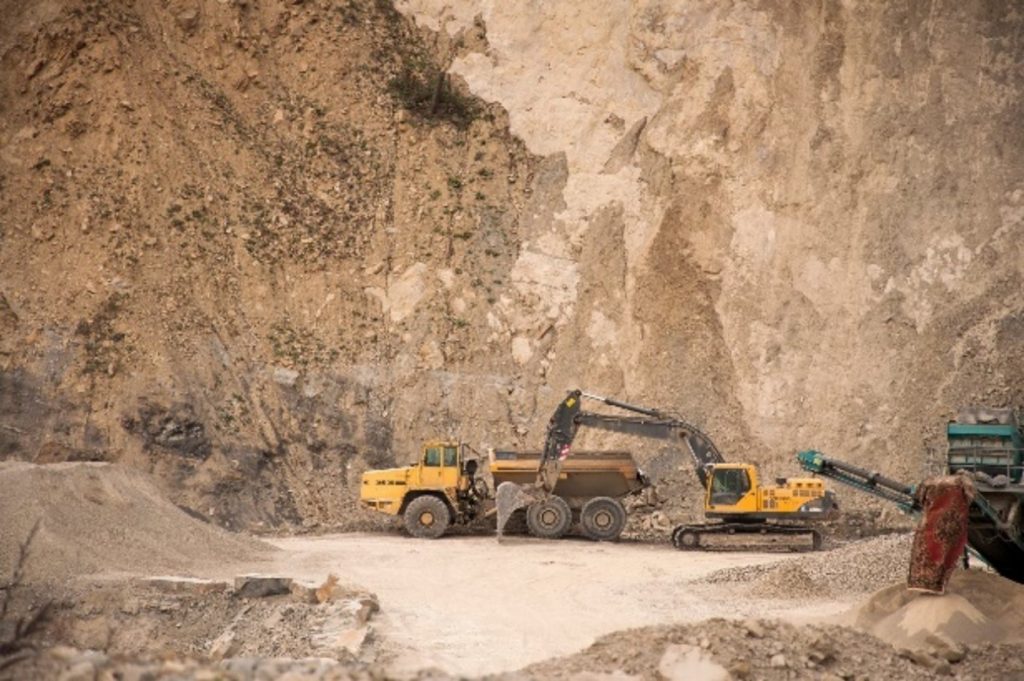 If it's one thing that the COVID-19 pandemic has highlighted, it's that crises can arise at any moment and thus, financial stability is of the utmost importance. However, investing isn't as simple as it used to be. The current opportunities that the masses are touting are not only risky but aren't even tangible assets that you can rely on – cryptocurrency is one of the prime examples of this.
When it comes to securing your future, investing wisely is essential. With the demand for rare earth elements on the rise, there's no better time to invest in this incredible opportunity. Read on to find out what rare earth elements (REE) are, how they're critical to our way of living, and why investing in them is so beneficial.
What Are Rare Earth Elements?
Rare earth elements (REE), or rare earth metals (REM), are a group of 17 elements that have a variety of magnetic, optical, and other uses. Some of the most popular examples of rare earth metals include neodymium, praseodymium, lanthanum, cerium, terbium, gallium, and dysprosium. These are used as raw materials in everything from cameras to night-vision goggles and military technology. Even the smartphone, tablet, or computer you're using to read this article has been made with the use of rare earth elements.
While these rare earth metals aren't rare in the same way that precious metals like gold and silver are, they're rare to find in their pure form. Furthermore, mining, extracting, and processing them is difficult, making them valuable and high in demand.
How Rare Earth Metals Are Used
One of the reasons rare earth metals are so valuable is because of how many different fields they are used in. In fact, they're critical components in manufacturing not only everyday items like batteries and magnets but also large-scale infrastructures like wind farms and transport such as electrical vehicles. The electronics industry is one of the most heavily reliant on rare earth metals, with neodymium, lanthanum, and praseodymium being important components in devices such as smartphones, e-readers, memory chips, and even cameras.
From thulium being used in microwaves to terbium being used in flat panel displays, rare earth element use is present everywhere we look. Of course, consumer products are not the only use for these raw materials. Rare earth elements are integral to governments all over the world, including the U.S., because of their use in defense and military technology. With uses in everything, from drones to fighter jets, rare earth metals are as important to governments as they are to the rest of the world.
Neodymium and praseodymium are some of the most important rare earth metals because of their use as "magnet feed" REEs. Magnets made from these are used in electric vehicles, smartphones, and more, with demand consistently rising. In fact, according to Roskill, permanent magnet applications are expected to increase from 29% of demand in 2020 to 40% of total demand by the end of 2030.
Rising Demand and Limited Supply
Although dubbed "rare", these elements aren't scarce in the traditional sense of the word. What makes them so rare is the difficulty required in extracting and processing them. This is because despite being found in the earth's crust, they're not common near the surface and vary widely in terms of geographical distribution.
Not only are they difficult to mine and extract, but processing them also requires a lot of energy, with limited processing facilities available for use. Therefore, because they're so complicated and expensive to source, they're extremely valuable and in high demand throughout the world.
China's Monopoly
Approximately 80% of the world's rare earth elements are being mined in China, giving the country a clear monopoly in the market. Even with other excavation sites like those in Australia, Malaysia, and Africa opening up, China still holds the monopoly because of its processing capabilities. To put this into perspective, it should be noted that China's production of rare earth metals is 6 times more than the next runner-up, Australia's. In essence, even if rare earth metals are excavated in the U.S., they will have to be sent to China for processing.
What's worrying about this is that China has held this as a bargaining chip in the past. In 2014, the World Trade Organization (WTO) stated that China's duties and rare-earth exports had been in breach of the organization's rules. While export quotas placed by China were removed in 2015, many nations are still spooked. According to reports, China has repeatedly considered restricting exports of rare earth metals to countries such as the U.S. who need them for not only commercial but also defense applications. Rare earth elements like gallium and neodymium are known for their use in everything from sensors to nuclear reactors, and more than half of the United States' annual consumption of 31 out of 35 critical rare earth elements comes from imports. In fact, 14 of these rely on imports alone because the U.S. doesn't produce them domestically.
Currently, the only rare earth element miner in the U.S. is MP Materials in Mountain Pass, California. While the company does plan to handle processing, this will not be viable until the plant's completion in 2022. This has caused the U.S. to invest in other rare earth element mining and processing companies. One such example is the U.S. government's $30 million investment in the Austrian company, Lynas Rare Earths, the largest rare earth element mining and processing company outside China.
While these steps may help even out the playing field in the future, this is not currently the case. China planned to increase mining quotas by approximately 30% in the first quarter of 2021 alone and is set to continue on that track. China's monopoly on rare earth elements has created an imbalance that has resulted in prices reaching new highs. Because rare earth metals are essential to technological advancement and current production needs, there has never been a better time to invest in them.
Green Energy, Sustainability, and Skyrocketing Demand
Additionally, rare earth element investment has seen a boom as industries and countries are working toward a greener and more sustainable future. Instead of relying on fossil fuels and furthering the harmful impacts of climate change, there has been more of a transition to cleaner energy using elements like uranium and nickel.
This trend is set to continue with rare earth elements because of their use in environmentally friendly transport like electric vehicles and infrastructure like wind turbines. Neodymium and praseodymium are the two most important rare earth elements involved in the production of permanent magnets and are at the center of this. NdPr magnets are present in more than 90% of electric vehicles – with this expected to grow 15x by 2030, the demand for magnets and thus, rare earth magnets will also continue to skyrocket.
So far, the battery market has grown more than 20% per year for the past four years because of the demand for electric vehicles alone. When one factors in other causes and the level of growth that would require, the stress on the supply chain becomes evident.
It's important to understand that this isn't one or two companies – the entire automobile industry is embracing electric vehicles. Rare earth elements are essential in making this a reality. In addition to powering electric vehicles, rare earth elements also allow for the miniaturization of electronics. Let's look at the biggest names in the business and their commitment to electric vehicles.
Tesla Inc. sells fully electric vehicles and boasts vehicle service centers and supercharger stations. All of this is made possible using rare earth metals such as neodymium which is used in Tesla's Model 3 Long Range car. Honda, another automobile giant, has committed to making two-thirds of its global sales electric by 2030. Ford is not only adding more electric vehicles to U.S. markets but has pledged that all sales in Europe will be electric by 2030. General Motors, one of the most well-known players in the automobile industry, has gone even further – it is not only ending production of fossil-fuel-powered vehicles but is planning to offer electric vehicles exclusively by 2035.
All of this is added demand for electric vehicles alone. This doesn't even take into account wind turbines and other clean energy initiatives. The green revolution is happening and it's clear that rare earth elements are crucial for this movement since this is where our energy is coming from. As even more strides are made, demand is going to skyrocket. Neodymium and praseodymium oxide (NdPr) has already risen in value by 40% this year, but it's not alone – terbium has risen by 39%, dysprosium has risen by 53%, and gadolinium has increased by 39%. Some studies have even shown that the demand for dysprosium can increase by as much as 2600% in the next 25 years.
After electric vehicles, the highest demand for permanent magnets has been in clean energy generation. Climate change is a harsh reality that the world is starting to face, which is resulting in even more of a shift toward renewable resources. In 2016, wind turbines accounted for so much NdFeB magnet use that it was only behind consumer electronics. Wind power is becoming more popular, and this, too, is going to result in increased demand for permanent magnets, and thus, rare earth metals. Increasing demand and restricted supply are only going to result in increased value, and those who have the foresight to see this are making sure to take advantage of this moment.
Benefits of Investing in Rare Earth Elements
When it comes to investing in precious metals, gold, silver, and palladium are the traditional metals that come to mind. However, investing in rare earth metals can be exceptionally lucrative. The following are some of the benefits that you can expect from investing in these alternative assets.
Rising Demand
The rise in demand for rare earth elements isn't expected to decrease anytime soon. Everything around us is made using these materials – even the iPhone next to you is made using more than a dozen different rare earth metals. Not only are rare earth metals required as raw materials for the production of goods, but they're also in high demand from different governments throughout the world for defense equipment and structures like wind turbines.
Limited Supply
Because of the difficulty involved in extracting and processing these elements, there is a limited supply of rare earth metals. With China stockpiling these metals and even restricting access to other countries, supply has become even more limited, and thus, prices have skyrocketed. With stricter action against illegal mining, and China closing down 12 illegal rare earth elements mines in the past few years, supply is being further limited. This, in conjunction with the continued rise in demand, has resulted in dramatic increases in pricing. In fact, the cost of neodymium and praseodymium (NdPr) has increased from $40,685/tonne to $72,543/tonne in just one year.
Critical in Production
Because rare earth elements are critical to not only the production of wind turbines or defense technology but also to governments themselves, there will always be a market for them. In fact, the United States has made this abundantly clear by branding these elements essential to national security.
Tangible Asset
Instead of investing in a concept, an investment in rare earth metals would be an investment in a tangible asset. Furthermore, this makes it inflation-proof, and more sound an investment than simply storing your money in the bank.
Inherent Value
Investments in cryptocurrency are considered risky because of cryptocurrencies' lack of inherent value. Bitcoin can be rising for a week and can fall to new lows the next week. This volatility is because its value is based on perception and the stock market. Investing in rare earth elements is so secure because their value is based on the principles of demand and supply, and so, they're not subject to fluctuations in price because of perception.
Secure Procurement
Despite how lucrative investing in rare earth elements is, people have been hesitant to put their money into them from an abundance of caution. However, this is no longer a problem with Strategic Metals Invest. In fact, it has never been safer. This is because Strategic Metals Invest ensures direct purchase from a globally renowned metals and elements dealer. Not only do you cut out the middleperson, but you also make sure that you're buying from an accredited authority. You even receive a proof of ownership certificate.
Taking Advantage of Rare Earth Elements' Scarcity
If you're still not sure about investing in rare earth metals, just look at how far MP Materials has come. Not only have sales increased by 100% over the last year, but profits have risen by 22 times. Their Q4 2020 sales amounted to $42.2 million, with $24.1 million in profits – a 57% net profit margin.
If you want to take advantage of this amazing opportunity by investing overseas while remaining cautious, Strategic Metals Invest is the answer. Your safety and security are guaranteed because we are placed within the industry and have proper entry and exit strategies in place. When you invest in rare earth metals, we ensure that they are not only purchased from a globally known dealer but that these raw materials are stored safely in a vault in Frankfurt, Germany.
Our partner, TRADIUM, has been in the metals business since 1999 and has been trusted by companies all over the world for more than 20 years. With the complete supply chain guaranteed and the optimal storage provided, you can be sure that your investment is in excellent hands.
We're a one-stop-shop for your investment – not only do we buy for you, but we also store your investment and sell it at a handsome profit when the time comes to do so. If you want to start profiting from this amazing opportunity, contact us here – we look forward to helping you with all of your rare earth element investment needs!