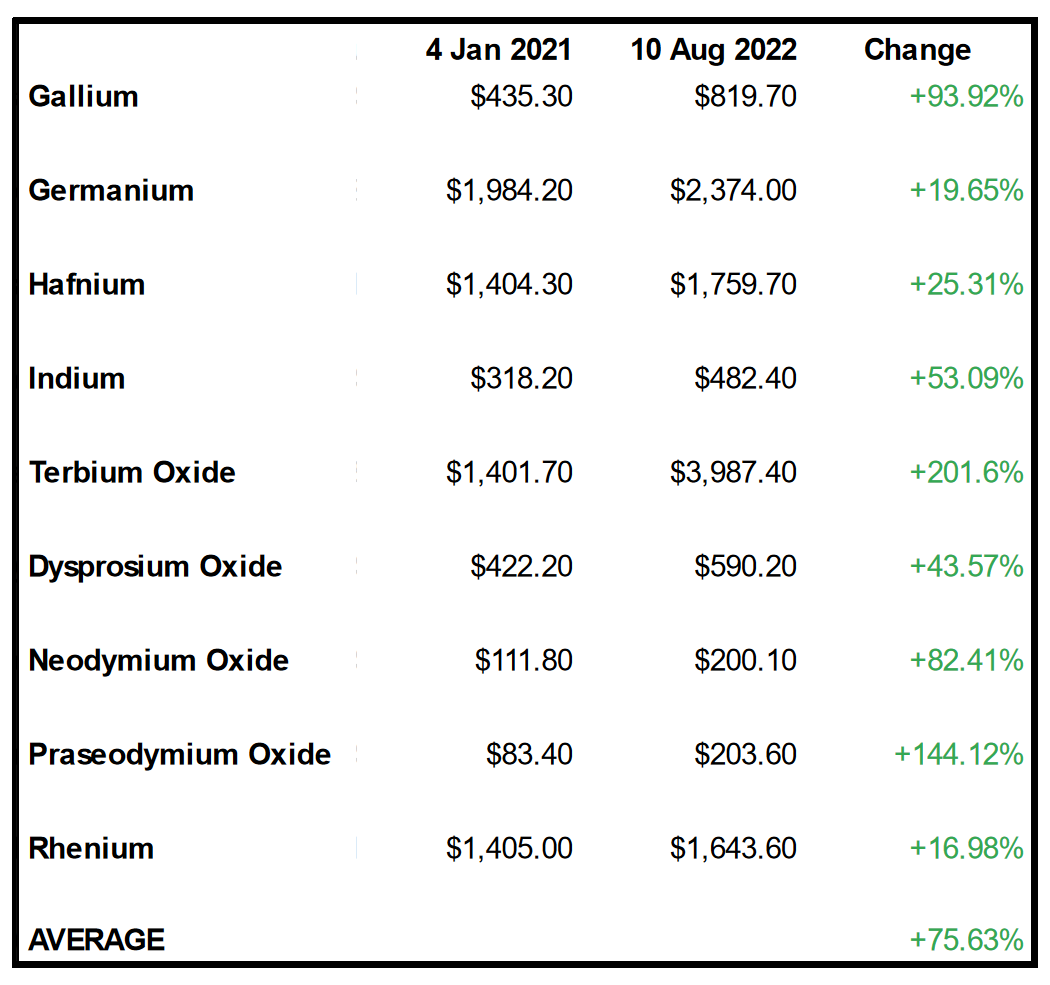 August 2022 Performance Update – Are New China Restrictions Imminent?
August 17, 2022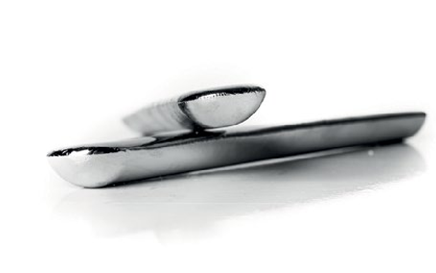 Germanium – the Backbone of Fast Fibre-optic Internet
October 6, 2022
Today we would like to share what's hidden in plain sight. How rare are Rare Earths? Why is supply limited and subject to disruption? How did China win the war for dominance in Rare Earths?
Let's begin with production.
Rare Earths are always found as a by-product of another raw material. They are never found separately and do not occur naturally. They are always found in small percentages as compounds in mineral ores (bastnasite, monazite, xenotime) and have to be extracted from them. This extraction process is both complicated and expensive. Chemically, Rare Earths are very similar to each other and usually exist in the ore together, which means that after extraction, the separation of a single Rare Earth adds further complications and costs.
Gallium, for example, is a by-product of the aluminium production process. It is impossible to produce more Gallium without overproducing aluminium. Its annual availability thus depends on and is limited by the annual demand for aluminium. It is estimated that the global demand for Gallium is 9 times higher than the supply. (Source: Fraunhofer Institute). This is set to continue until 2030 and beyond; just look (image below) at what one small country, Austria, will need for their planned expansion to renewable energies, and you can easily see why demand will continue to outstrip supply on a global scale.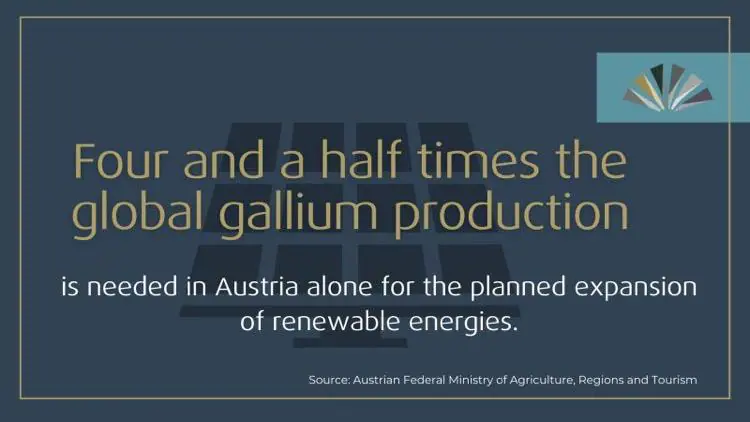 To further complicate scarcity for us in the West, China is 30 years ahead of the rest of the world in the refining/separation process. China is now responsible for 87% of the global refining of Rare Earths (see chart below) (Source: International Energy Agency).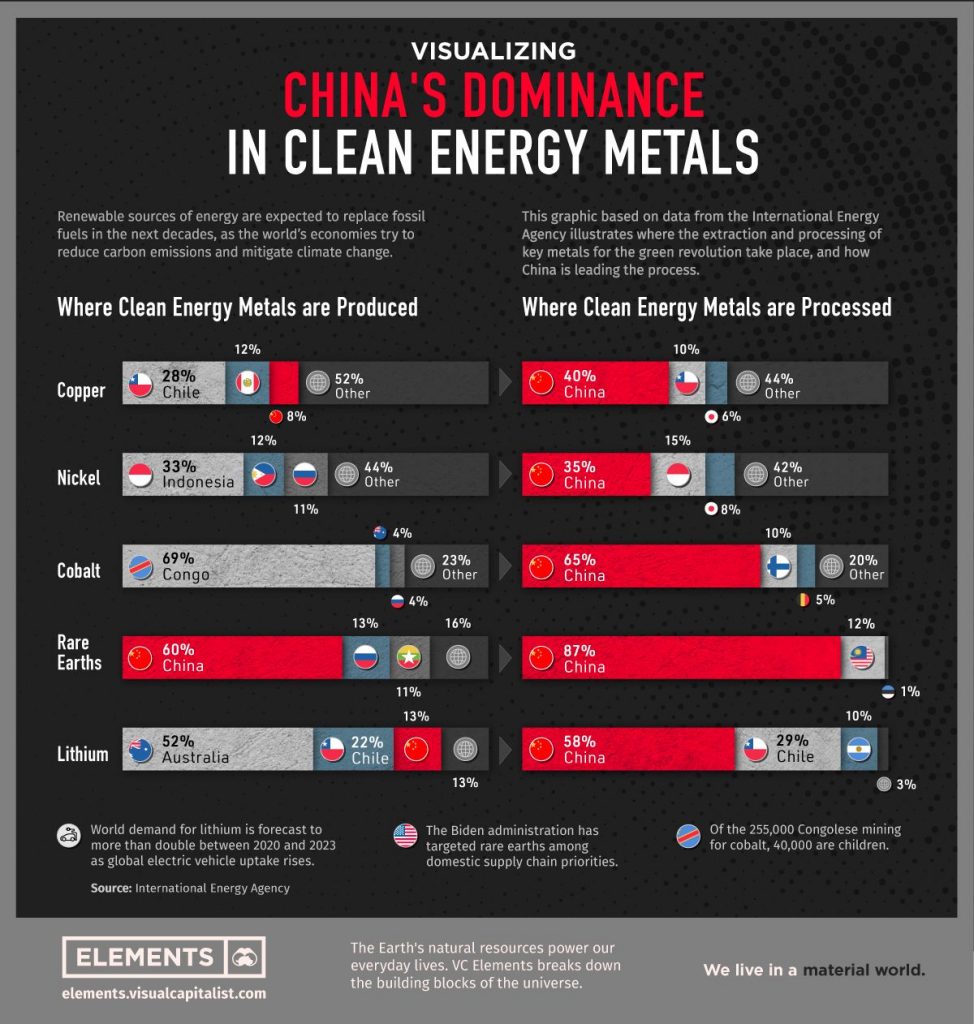 For example, there is one Rare Earth production facility in North America, Mountain Pass in California, which still sends 100% of its raw materials to China for separation.
In a very rare occurrence of agreement both President Trump and President Biden, signed executive orders recognizing the USA must wean its dependence on China and increase production and begin to refine and separate domestically. This is easier said than done. As mentioned earlier, the extraction and separation process is complicated and expensive. It also requires skilled metallurgists and geologists who will need education and training. To give you an example of the scale we are talking about, China has been graduating about 200 metallurgists a week every week for the past 30 years. In comparison, the US graduates about 200 a year.
It gets better (if you are an investor) or worse, depending on where you are standing, as China is only getting started. China's future policy 2025 clearly states the goal of 100% domestic self-sufficiency in 10 different technologies. China is already 87% there in Rare Earths production as demonstrated above, and somewhere between 2025 and 2030 when China reaches its goal, then we in the west will be waiting in line for what China will export after they have satisfied their domestic quotas. It is, in fact, already occurring as last year China doubled its production of electric cars, and simultaneously we saw the prices of some of our metals double. Good news for investors.
..and it does not end there; once domestic self-sufficiency is achieved, then China will move rapidly up the Rare Earth value chain. In short, China aims to transform itself from being the largest producer and refiner of Rare Earth Elements to being the world's major high-value add manufacturer of clean energy products dependent on rare earths metals. China has big plans for solar power, wind turbines, and electric cars and not just domestically.
In 1987, then Chinese President Deng Xiaoping famously said, the Middle East has oil. China has Rare Earths. This shrewd prediction has come to pass. China has won; the war is over. What investors could not do in 1987 that they can safely do now is profit from progress, scarcity, and growth. How? By purchasing and owning industrial-grade high-value Rare Earths.
Rare Earths have outperformed Precious Metals, FTSE100, and S&P500 consistently for the past 5 years, delivering an average of 34.25% return every year since 2017. Gallium alone is up 50% a year every year and is already up 40% this year so far.